PRODUCT_NAME: Traffic Travis
Overall Ranking: 7/10
Price: 7 days trial, $97/year
Owners: Affilorama
Website: traffictravis.com
In the age of online marketing, blogging and social media, there are myriad ways for businesses to get their fix. SEO tools have been developed to facilitate better management of business websites and blogs. Such is the case of the Traffic Travis software which is has helped to streamline online retail sales.
What is Traffic Travis?
Traffic Travis is a software tool made to facilitate E-Commerce by helping online retailers monitor their websites popularity and performance statistics. It's desktop software ideal for internet marketing and boosting the traffic to a business website.
Where is it used?
There are much praise and success records among businesses that use this software. It's great especially for beginners because of its user-friendly interface that facilitates learning
1. it's used in collecting, analyzing and pooling up useful eye-opening data, so businesses no longer operate in the dark
2. Internet research works on websites you desire. This tool is helpful in analyzing competition, tracing backlinks. Checking rankings, finding keywords and generating graphs and website reports
3. Search engine optimization and monitoring pay-per-click; this has been made possible by these four different utilities.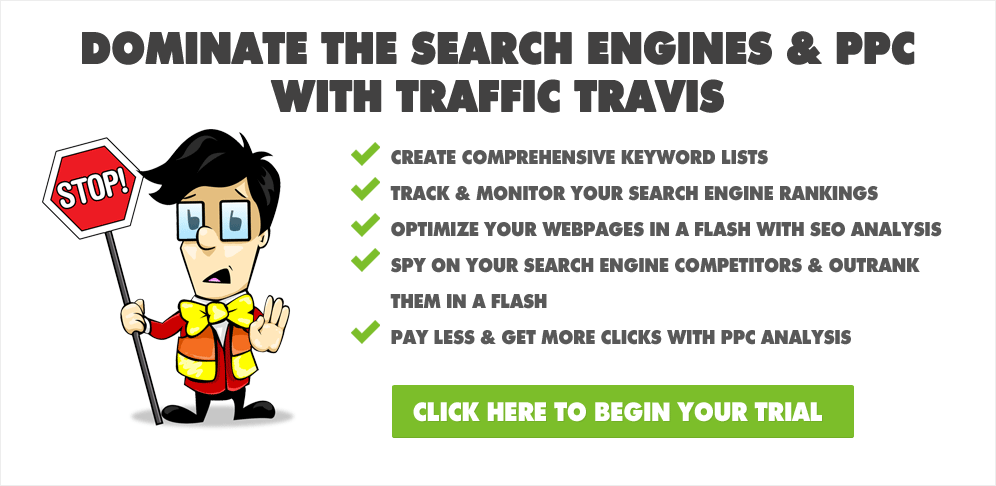 The first service finds common keywords for a business to use on its sites pages. The keyword finder and keyword sorter tools make it possible for a site to use keywords that have a lot of searches (i.e. traditional words). Besides, it also finds information about competitors so you can keep track of them.
The second utility is used to display your business website among the best four search engines
The third service keeps track of ads and campaigns; this utility checks other ads that might be using the same keywords as yours thus managing Google AdSense data.
The fourth service grades your site through page analysis for use in search engine optimization
PROS: that make Traffic Travis a hassle free SEO tool
It's a user-friendly layout tool
By sticking to the instructions, one can use the tool in internet research work. This software has these simple gears which come in handy
• Professional platform: the interface is a professional one, tailor made to suit business marketing needs. It's straightforward and user-friendly even for beginners. There are no loading problems.
• The graphics of the system are top-notch
• In-built navigation tools
• There is a free version and a pro version
The free version is useful too as you can tackle most SEO related work on it, all that is required is registration, installation, activation and you are ready to go. But you can switch to the pro version which has additional features by paying a small subscription fee. All in all, this is much cheaper and simpler than other alternative SEO tools
• Connects with Google Adwords and AdSense; this helps you manage keyword data from Google check other ads that might be using the same keywords as yours.
Features
A page exploration tool: this analysis the critical SEO areas of a page to come up with a grade for the particular page which is a score important for search engine optimization. It's useful as:
• It helps determine how good your page is to online viewers. Does it offer the necessary information they are looking for on the web? A business site will only get traffic if customers find the information on it useful; otherwise, they turn to your competition.
• Determines where your site ranks in top search engines and how you can make your pages better. Depending on relevant keywords on a page, the information provided by the website determines the site's performance and how quickly it comes up on search engines when searched by customers.
• Stores information about web sites previous ranking so you can keep track of a website's performance.
Tracking system to monitor links and data: Every marketer will agree that links are important as they determine sites were ranking. Links, both external and internal links directly relate to a site's quality. External links come from other websites connecting to your site. These hyperlinks determine a site's popularity and trustworthiness. It's important for a business to discover the source of traffic. This tool helps to:
• Trace backlinks that connect to your site and find out information about these websites and customers. Usually, this is information about their IP addresses. You can pinpoint the particular location (geographical, age, etc.) your business means more to.
• Summaries customer information
• The tracking system also helps in fetching historical data to be analyzed and stored in the system.
Information fetching, storage and analysis tools: This utility makes this software the best tool in carrying out internet research works as it avails:
•Data on market trends: both cross-sectional trends and historical trend data are available. Cross-sectional trend helps in keeping up with competition while historical trend alerts the business to changing marketing and economic dynamics
• Diverse statistics ate pooled together to determine how they relate.
Great Pay-per-click research software: The PPC tracking tool shows which keywords are competitive among advertisers and their movement on search engines. Search engine advertising is a form of performance-based advertising where advertisers bid for their ads to be placed in the search engines sponsored links so that when searched their sites show up first. The Traffic Travis software facilitates this type of marketing by:
• Analyzing keywords density
• Tracking keywords that are attracting a lot of attention from advertisers and select the right keywords a site can use in marketing itself
• Organizing keywords so they can mold into desirable ad groups and campaigns
CONS : What are the disadvantages of Traffic Travis software?
1. Traffic Travis only tracks backlinks to your website but doesn't journalize them for better management.
2. The free version doesn't offer an analysis of keywords, campaigns, and competitor's info. Because there are not these features, it more limited as the professional version.
3. It can be easily blocked by Google especially if you do not use proxies. Additionally, there is the complaint that it freezes though rarely
4. A lot of add-ons and junk data so that it will keep sending emails to you but you can unsubscribe from their email services
The verdict is that Traffic Travis is a useful tool that helps companies to apply better SEO strategies, especially during this digital age. It's useful for startups and beginner SEO marketers. The software also makes available project reports and graphs which can be sent to the business clients as a testimony of a business' good service.
If you have doubts or comments, please write below.